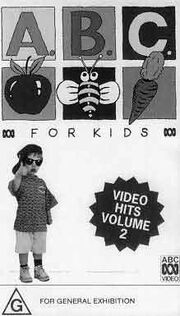 ABC For Kids Video Hits Volume 2 is 1992 video from ABC For Kids. Like its predecessor, ABC For Kids Video Hits, it features video clips from various artists, including The Wiggles, Franciscus Henri and Don Spencer.
Song List
Edit
Walking On The Milky Way - Franciscus Henri
The Diesel Rap - Johnson and Friends
Radical Wheels - Swap Shop
Bob The Kelpie - Don Spencer
Dancing In The Kitchen - Franciscus Henri
Ferry Boat Fred - Michael Young
One Man Went To Mow - Mike Jackson
Busy Baby, Bubby - George Spartels
Thumbs Up - Don Spencer
Dorothy The Dinosaur - The Wiggles
It was the second video to feature The Wiggles, again with Phillip Wilcher as the fifth Wiggle, and in the coloured shirts. Dorothy The Dinosaur was filmed at the Darling Harbour, and the Darling Harbour Chinese Gardens.
The clip Radical Wheels was taken from ABC TV series Swap Shop.
The Diesel Rap and ferry Boat Fred are the only music videos to have clips from TV shows.