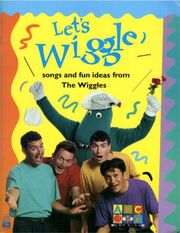 "Let's Wiggle - Songs and Fun Ideas from The Wiggles" is a Wiggles book published in March 10th 1993.
Song List
Edit
Get Ready to Wiggle
Come and Sail the Sea
Dorothy the Dinosaur
Dorothy's Birthday Party
Vini Vini
Rock-a-Bye Your Bear
Here Comes a Bear
Uncle Noah's Ark
Okki Tokki Unga
Whenever I Hear This Music
The Magic Kindy
Little Brown Ant
I Look In The Mirror
Lechoo Yeladim
Dancing Ride
Ad blocker interference detected!
Wikia is a free-to-use site that makes money from advertising. We have a modified experience for viewers using ad blockers

Wikia is not accessible if you've made further modifications. Remove the custom ad blocker rule(s) and the page will load as expected.