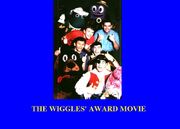 The Wiggles' Award Movie is an unseen Wiggles video released in 1996.
Bonus Features
Edit
Two Bonus  Songs  From  Wiggle  Time  (1993):  Here  Comes  A  Bear  And  Dorothy  The  Dinosaur
The  Wiggles'  Award  Movie  Behind  The  Scenes
The  Wiggly  Studio
Photo  Gallery
Subtitles
Intro: The Wiggles have a clip from Everybody is Clever with the title The Wiggles' Award Movie.
The Wiggles introduce themselves then decided to wiggle.
Song #1: Get Ready to Wiggle - Sounds like the 1996 concert video
Greg gets a teddy bear with a yellow necklace. Murray arrives with a teddy bear with a red necklace. Jeff arrives with a teddy bear with a purple necklace and Anthony gets his teddy bear with a blue necklace. Greg tells everybody to clap then sing then bow to their partner then turn around and sing about a teddy bear.
Song #2: Rock-a-Bye Your Bear - Bonus 15th Birthday Song
The Wiggles go to Dorothy's Birthday Party by marching and they sing marching along.
Song #3: Dorothy's Birthday Party - The balloons are at the top of the song.
The party has potatoes. They get so hot. They see spaghetti. They are cold and wiggly. And the Wiggles won't touch the bananas because they're too mashy.
Song #4: Hot Potato - Bonus Song From 15th Birthday
The Wiggles each do statues. Greg says they can (the posts were similar to the Wake Up Jeff! video). Each Wiggle does a real statue form but they move. But Greg catches them so they do a song.
Song #5: Everybody is Clever - The Wiggles don't move, but there's singing in the background.
Jeff has fallen asleep. They think of a song.
Song #6: Wake Up Jeff! - Jeff's head keeps getting up and down (Same to Wiggledance! Live in Concert)
Greg does a magic trick by making stuff disappear, but they don't. Greg's face feels worried. He forgets to use his magic wand. Then it works.
Song #7: I Can Do So Many Things - This is after the magic skit
The Wiggles teach Captain Feathersword to sing Quack Quack
Song #8: Quack Quack
The Wiggles need to go so they'll do a goodbye dance.
Song #9: Goodbye Dance - Jeff isn't asleep
The Wiggles Live Intro: The Wiggles video, WiggleDance Wiggledancing 1996,2006, appears in the background!
Live Song #1: Dorothy The Dinosaur
Live Song #2: Nya, Nya, Nya
Closing to Shaky Shaky
Get Ready to Wiggle
Rock-a-Bye Your Bear
Marching Along
Dorothy's Birthday Party
Hot Potato
Everybody is Clever
Wake Up Jeff!
I Can Do So Many Things
Goodbye Dance
Can You Point Your Fingers And Do The Twist?
Dorothy the Dinosaur (Live)
Nya Nya Nya (Live)
Get Ready To Wiggle (Reprise)