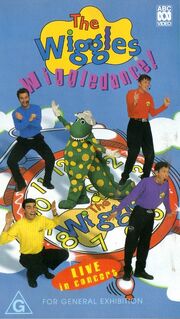 Wiggledance! Live in Concert
is the fifth Wiggles video filmed in December 1996 and released in early 1997 on June 9, 1997 and re-released it in late 1998 on September 6, 1998 (re-release).
Song List:
Rock-a-Bye Your Bear
Can You Point Your Fingers and Do The Twist?
Dorothy the Dinosaur
Dorothy, Would You Like to Dance With Me?
Vini Vini (1997 version only)
Wags the Dog
Quack, Quack
Wake Up Jeff!
Nya, Nya, Nya
Five Little Joeys
Baby Beluga
Let's Have a Dance with Henry
Romp Bomp a Stomp
Hot Potato
Get Ready to Wiggle
Nya, Nya, Nya (reprise)
Ad blocker interference detected!
Wikia is a free-to-use site that makes money from advertising. We have a modified experience for viewers using ad blockers

Wikia is not accessible if you've made further modifications. Remove the custom ad blocker rule(s) and the page will load as expected.